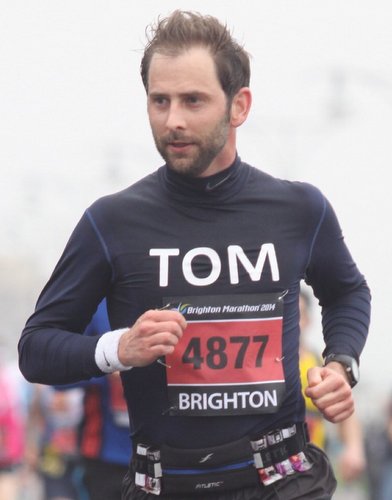 Tom Goom aka. THE RUNNING PHYSIO heizt euch dieses Jahr in Solingen ein (zwischen Köln und Düsseldorf)!
Laufverletzungen, Sehnenreha, Knieprobleme … Als Laufjunk versorgt dich Tom mit massenweise Info für deine (Lauf-) Athleten. Deutschland-Premiere!
Eine ausführliche Beschreibung findest du auf Tom's Webseite.
What's in Running Repairs?
Both the face-to-face and online courses covers all key areas in running rehab including gait analysis, strength and conditioning, training error, load management and optimising your assessment and treatment for each individual. Common pathologies are discussed in detail including tendinopathy, patellofemoral pain, bone stress injury and plantar fasciopathy. We champion a biopsychosocial approach and highlight the importance of this throughout.
Course Timetable
Day 1:
| | |
| --- | --- |
| Time | |
| 8.45 | Registration |
| 9.00 | Introductions and key concepts |
| 9.30 | Role of load & injury prevention |
| 10.30 | Break |
| 10.45 | Subjective history |
| 11.15 | Objective assessment including strength, flexibility and control |
| 13.00 | Lunch |
| 13.30 | Gait analysis theory and evidence |
| 14.30 | Gait analysis practice and practical |
| 16.45 | Questions and close |
Day 2:
| | |
| --- | --- |
| Time | |
| 9.00 | Strength ans conditioning for runners |
| 10.45 | Break |
| 11.00 | Treatment overview |
| 11.30 | Tendinopathy |
| 13.00 | Lunch |
| 13.30 | "Runner's knee" and ITBS |
| 15.00 | Plantar Fasciopythy |
| 15.30 | Calf and muscle pain |
| 16.00 | Bone stress injury |
| 16.45 | Questions and close |
Kurssprache: Englisch
Kursnummer:
SO-PMS-19-03
Leitung:
Tom Goom

Kursgebühr:
480,00 €
Beginn:
30.03.2019
Ende:
31.03.2019
Kurszeiten:
Sa. 30.03., 08:45 - 17:00 Uhr
So. 31.03., 09:00 - 17:00 Uhr
Kursort:
Dycker Feld 53c, 42653 Solingen
Zielgruppe:
Physiotherapeuten, Masseure, Ärzte, Sport- und Gymnastiklehrer, Sportwissenschaftler
Fortbildungspunkte:
16
Status:
freie Plätze
Downloads:
Kurs als PDF herunterladen Kurs als Termin für Outlook/iCal herunterladen
Buchung